Mary
Mary further describes the hostile work environment, failure of contract negotiations, and highlights the disfunction of TWU.
NEXT: WATCH PART 3
Part 3 features Greg, a SWA Flight Attendant of 20 years.
THE FACTS
We found further evidence to support Mary's description of the failure in contract negotiation, criminal behavior and hostile work environment. Here is some of the supporting documentation.
CONTRACT FAILURE
TWU's proposed Contract in 2015 was voted down by 87% (with 89% of the membership voting), extending the negotiation period further as it became amendable in 2013.
The union said proposed work rule changes in the contract "were considered by many voters to be overreaching and burdensome on flight attendants and their quality of work and family life."
Southwest flight attendants reject contract
Read the Star-Telegram Article:
ALLEGIANT DECERTIFICATION
In July 2015, Allegiant flight attendants seeking to decertify TWU filed an application for an election. After months of legal challenges by the TWU seeking to throw out some of the authorization cards, the National Mediation Board (NMB) determined in January 2016 that at least 50 percent of the workgroup had submitted cards in support of the election. In the election of 731 eligible voters, only 570 voted – 273 voted for "no" representation, 13 votes short of the needed majority; 289 voted for the TWU and 8 voted for other purported representatives. Under NMB rules, all "yes" votes are counted in favor of representation. Their effort failed.
It is no surprise that Allegiant attempted to decertify TWU after so many years of negotiating their first contract with no support until "the leadership of the union changed and we [TWU] took the interests of the Allegiant Flight Attendants seriously."
It is important to understand that it is virtually impossible to decertify a union once it is elected.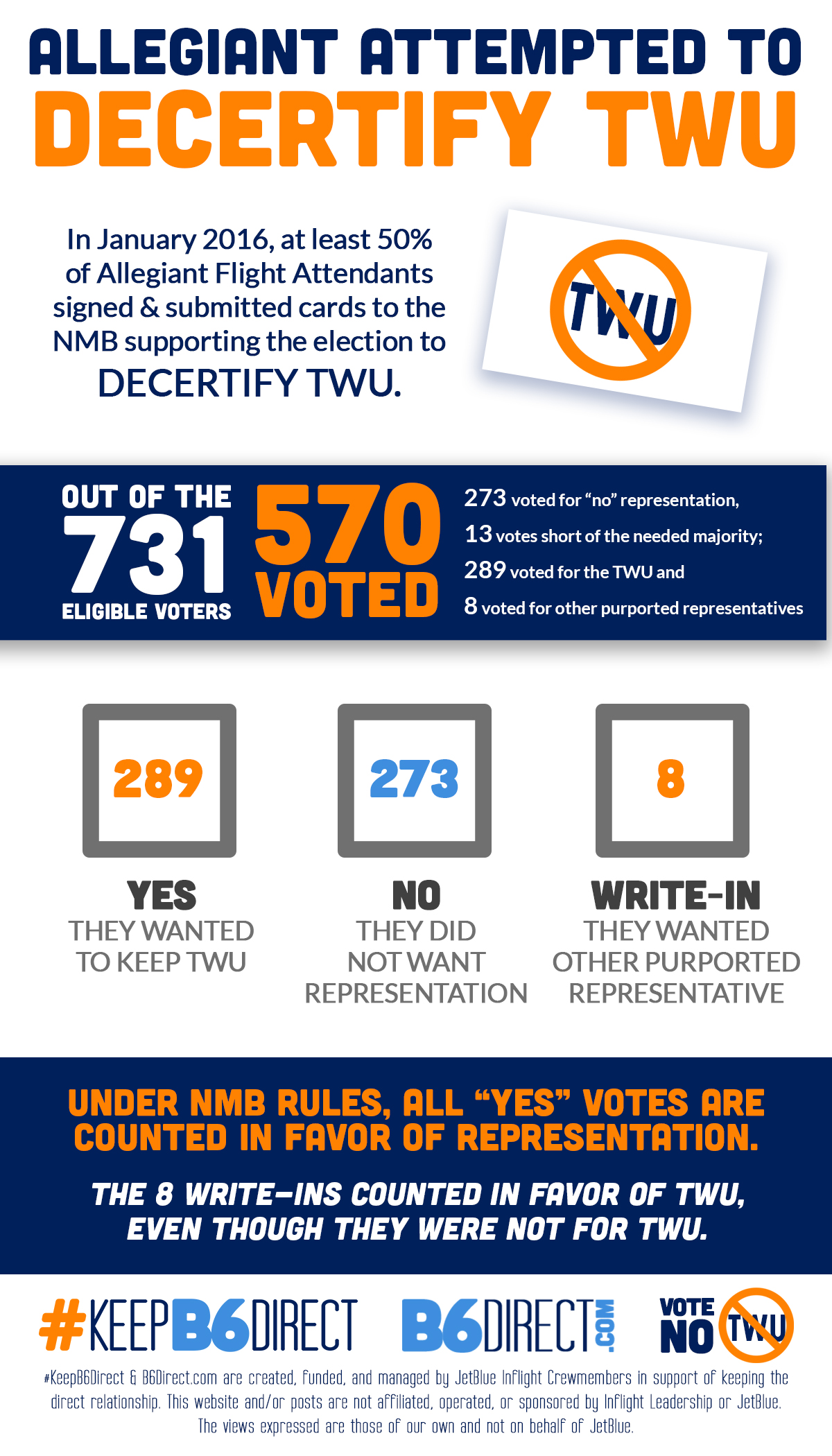 IN HISTORIC EFFORT, ALLEGIANT AIR FLIGHT ATTENDANTS FILE TO DECERTIFY FAILED UNION
Read the Labor Union Report:
Allegiant Air flight attendants soundly reject new contract
Read the Tampa Bay Times Article:
IT'S TOO HARD TO GET RID OF A UNION
Read the Real Clear Policy Article:
TWU Membership
TWU boasts that they have nearly 140,000 members. The only two Flight Attendant workgroups they currently represent are Allegiant & Southwest, just 12% of their total membership.
TWU's expertise is NOT Flight Attendant representation. The only two initial contracts they have ever negotiated for Flight Attendant workgroups were for Southwest in 1975, and Allegiant in 2017, which took 7 years of negotiation. Their track record speaks for itself.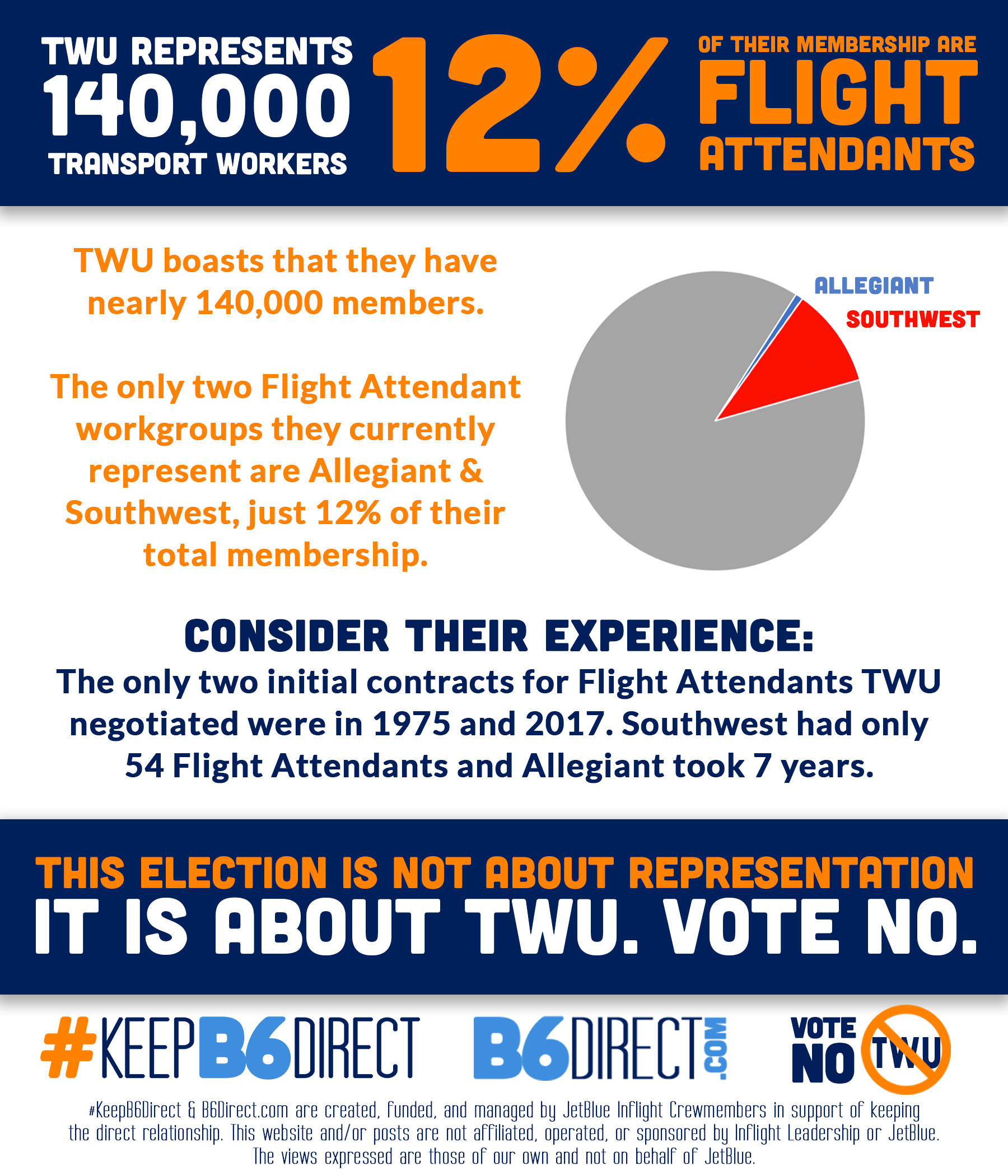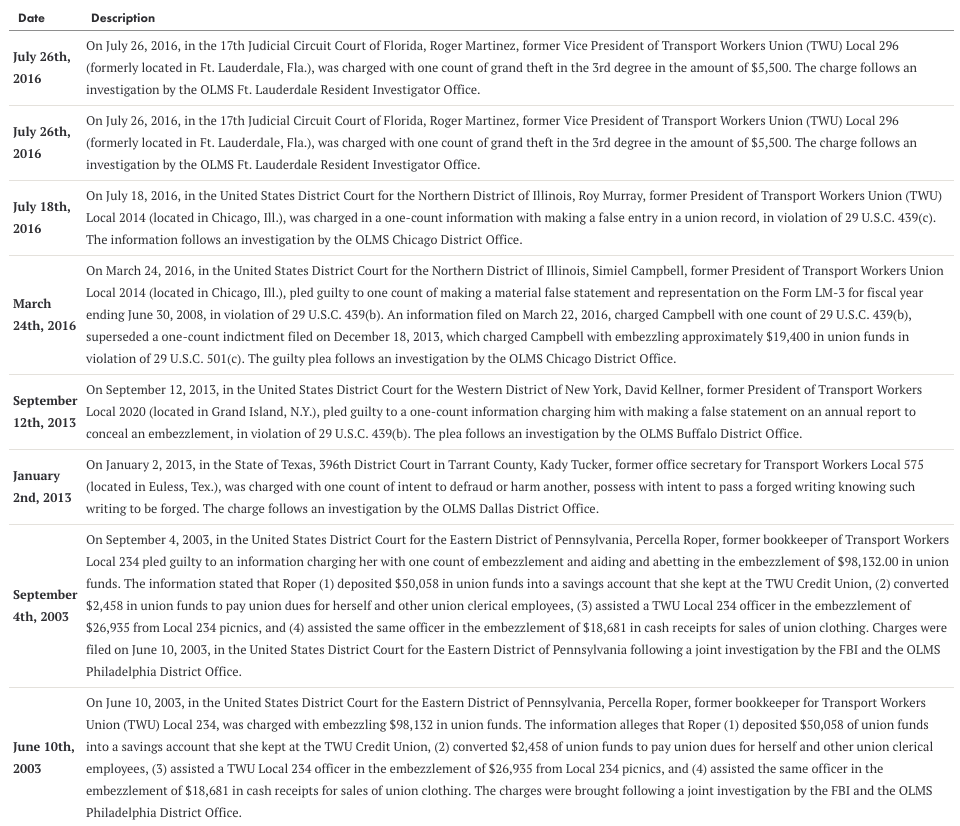 Ready for Part 3?
Watch & listen to our interview with Greg...