Greg
Greg further discusses the difficulty in decertification, blacklisting of members, how the disunity continues, and more. 
LEARN MORE AT B6DIRECT.COM
Get the facts. VOTE NO. #KeepB6Direct
THE FACTS
Greg's description of the disunity mirrored Mary's, so we looked to the evidence to support what he described. Here is some of the supporting documentation.
MELISSA SMITH
The TWU President was removed from office, and following a lawsuit, was awarded $233,843, paid with the dues from Local 556 members.
The Union board was found liable for retailiation against Smith for her filing of EEOC claims, violations of her due process rights under the Union's constitution, and defamation in connection with "actively acqiescing" in the false rumor that Smith was guilty of "embezzlement" and adding further support for the rumor by falsely charging Smith with "misappropriation of funds." It was found that such defamation was done maliciously.
Read the actual Arbitration text below:
FURTHER APPEAL OF THE ARBITRATION AGREEMENT
This appeal case was held in 2004 in regards to a dispute of changing the award based on taxation.
DISUNITY AT SOUTHWEST AIRLINES
These articles describe the reality of disunity at Southwest Airlines:
Southwest Airline activist flight attendants still pushing for union leader recall
Read the Biz Journal Article:
Southwest Airlines union seems to be having some disunity
Read the Dallas News Article:
Southwest Flight Attendant Files Lawsuit for Union Retaliation for Criticizing Union Boss Political Stances
Read the article from the National Right to Work Legal Defense Foundation :
ALLEGIANT DECERTIFICATION
In July 2015, Allegiant flight attendants seeking to decertify TWU filed an application for an election. After months of legal challenges by the TWU seeking to throw out some of the authorization cards, the National Mediation Board (NMB) determined in January 2016 that at least 50 percent of the workgroup had submitted cards in support of the election. In the election of 731 eligible voters, only 570 voted – 273 voted for "no" representation, 13 votes short of the needed majority; 289 voted for the TWU and 8 voted for other purported representatives. Under NMB rules, all "yes" votes are counted in favor of representation. Their effort failed.
It is no surprise that Allegiant attempted to decertify TWU after so many years of negotiating their first contract with no support until "the leadership of the union changed and we [TWU] took the interests of the Allegiant Flight Attendants seriously."
It is important to understand that it is virtually impossible to decertify a union once it is elected.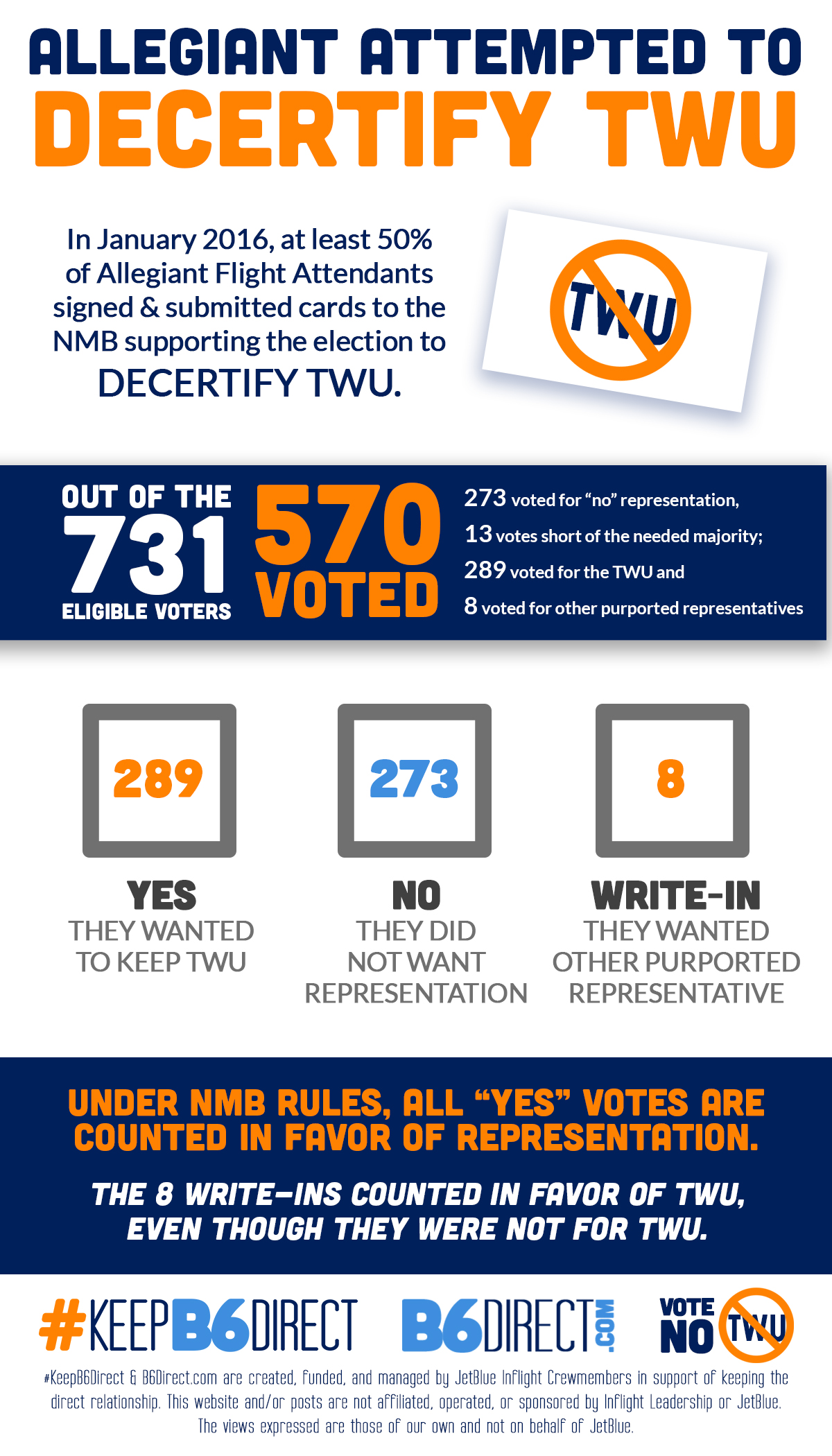 UNION BOARD RECALL
Jeanna Jackson, a TWU Local 556 member for 29 years, started a Recall Petition in July 2015 to Recall certain Members of our Executive Board at 556. Since that Recall was started, 7,592 Flight Attendants and Members of TWU Local 556 have signed this valid and legal Recall Petition requesting a new election of 12 of the 17 Officers of our Executive Board, including the President, 1st Vice President, 2nd Vice President, Financial Secretary, Recording Secretary, one Board Member at Large and 6 of the Domicile Executive Board Members.
$51,170 RAISED TO HIRE LABOR ATTORNEY
Jeanna Jackson turned in the required number of signatures (7,592 Flight Attendants signed this Recall Petition) per the Bylaws yet the Executive Board refused to do their part to make this Recall Election happen.  The President and Executive Board ignored the Will of the Membership.   This fund was raised by 1,046 donations totaling $51,170 to pay for legal representation in their continued fight for new and better Union Representation for ALL Flight Attendants/Members of TWU Local 556.
Check out the GoFundMe page:

GET THE FACTS.
LEARN MORE AT B6DIRECT.COM
VOTE NO!